OUT NOW: Nymph's Trust (Purple Oasis #1)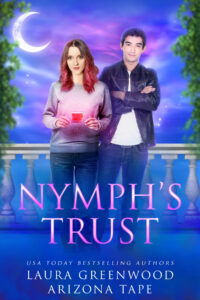 Purple Oasis #1 (co-written with Laura Greenwood).
As the daughter of the Purple Oasis coven leader, the last thing Jasmine expects is to be sent on a diplomatic mission to convince the nymphs and dryads to part with their precious tea. Nor does she expect to make a connection with the handsome nymph sent to negotiate.
Ryburn never expected to like the representative of Purple Oasis, but he's unable to deny the spark of something special he sees in Jasmine.
Can the two of them forge an alliance between their people without losing their hearts?
****
Nymph's Trust is book one of the Purple Oasis series. It is a standalone m/f paranormal romance set in a post-apocalyptic world that's starting to rebuild.
Available on every retailer
Apple – Kobo – Nook – Google Play – Amazon – Smashwords – Payhip – Universal Link
Purple Oasis Books
More books coming soon!
To the Purple Oasis Series Page
---
---