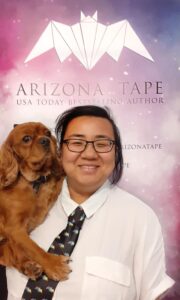 About Arizona Tape
Arizona Tape is a European author who enjoys nothing more than creating new worlds with nuanced characters and twists on mythology from around the world.
Her stories often contain a fantasy element with the focus on inclusivity, diversity, and representation. Whether it's dragon shifters looking for their fated mates or demons hiding in the human world, there's always an element of romance and discovery from a modern angle.
Growing up, she could be found making multiple trips to the library on the same day or sneakily reading under the covers past bedtime. She still writes most of her books at night.
She lives in the UK with her girlfriend and adorable dog, Fudgestick, who is the star of her newsletter. Sign up here for adorable pictures and free books: www.arizonatape.com/subscribe
Follow the Author

---
Contact
Or write here for complaints, jokes, emails, errors in books, collaborations, or anything else: arizonatape@arizonatape.com
---
Errors
Use this form to report errors in books.
---
Become A Reviewer
Apply to become a reviewer here. (Booksprout)
---
Stay in touch