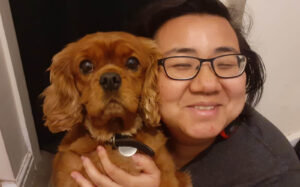 A creator at heart, Ari has always been in love with the idea of turning nothing into something. She wants to conquer the book world with stories that focus on inclusivity and diversity, writing what she likes to read. Whether it's adventure or romance, dragons and vampires, or princesses and students, there's something for everyone.
Born in China, raised in Belgium, and currently living in the United Kingdom with her girlfriend, Ari is a citizen of the world and loves discovering new cultures. Luckily, her crazy imagination lets her discover places she's never been to, meet people that don't exist, and talk to readers from all over the world.
A list of achievements:
Ari is a USA Today Bestselling Author that loves to write all kinds of genres.

Twisted Games

won a reader award for best LGBT book of 2018 by Lelene Service.
Soulswap (with Laura Greenwood) placed third in a reader award for best LGBT book of 2018 by Virtual FantasyCon Awards.

---
Contact
Or write here for complaints, jokes, emails, errors in books, collaborations, or anything else: arizonatape@arizonatape.com
---
Errors
Use this form to report errors in books.
---
Stay in touch